The Earth's natural carbon cycle has seen atmospheric CO2 drawn from the air over hundreds of millions of years to produce plants which then typically die and decompose, thereby returning carbon and oxygen to the air in the form of CO2 and methane. However, some plants and animals which die are buried and fossilised, preventing the return of the carbon into the atmosphere, Over eons, this has resulted in a significant reduction of the proportion of CO2 in Earth's atmosphere, which at present is especially conducive to humans and other animals which evolved over the last few million years.
Humankind's burning of fossil fuels over the last two hundred years has started to reverse a multi-eon process in a relatively short space of time, resulting in a rapid impact on the Earth's climate; hence the drive to phase out further burning of fossil fuels over the next few decades.
By contrast, green methanol's carbon lifecycle is circular. CO2 is removed from the atmosphere at the start of the cycle and released back into the biosphere at the end of the cycle. In this way, green methanol can be considered a net-zero fuel
Plantation biomass absorbs CO2 as part of the natural photosynthetic process during the 10 - 17 year growth cycle. The bulk of the harvest is used to supply the timber and paper industries, but some of the remaining biomass is used as a feedstock to produce green methanol.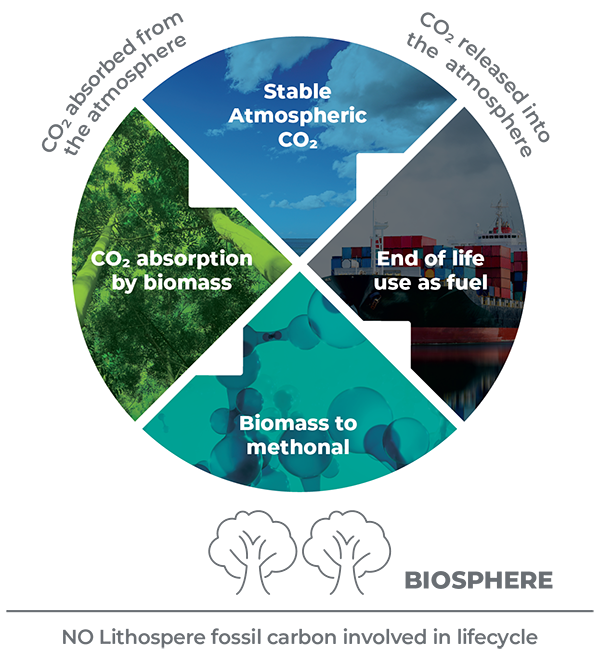 Equally significant is that when green methanol is used to make chemicals rather than burned as a fuel, it actually removes more CO2 from the atmosphere than it returns (like timber products) and therefore has a negative carbon emissions profile.